Yes, the picture above is me, right before I learned how to ride a dirt bike this past Thanksgiving weekend (We will use the very loose definition of "learned" for this blog's purposes). Anyway, that is the cool picture, by the way. Sadly, it was probably the only time I looked cool for the rest of the day.
It started out well enough, but get too many Type-A family members together and, well….yeah. Not pretty. I should learn not to bait to 12-year-old smack talk. Sigh. I took up the challenge that, despite being almost 40 and possessing no discernible motorcycle skills, I could learn how to ride a dirt bike. It had always been on my bucket list, so why not?
I tend to be a pretty fast learner, and, at least in the beginning, I seemed to be a natural. Ah, but here is where the problem can start. Apparently, there are two critical curves that should always run parallel–The Skill Curve and Confidence Curve. When the Confidence Curve outpaces the Skill Curve? You get this….
I was zooming along on the flat, nicely packed dirt having a good time. Ah, but then the thought sneaked, snuck, snooked—whatever—into my brain that I needed a bigger challenge. I wanted to try out some hills. It didn't help that my 12 year old nephew was zooming circles around me.
You dang whipper-snipper! I'll show you!
Sometimes I wish I had a Delorean so I could go back in time and slap some sense into Younger Kristen. What were you thinking? Getting in the Not-Smart-Zone. Seriously???? Why would you remotely think that is a good idea?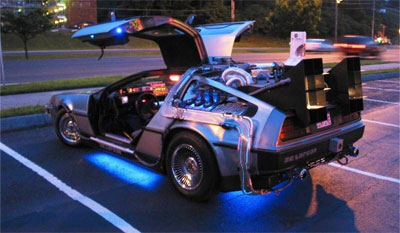 Photo courtesy of Fanboy.com
As you can probably guess, my motor cross experience was an #epicfail. I was looking good, so onlookers say (Ever notice they call them "onlookers" when referencing something stupid/tragic?).  Then I hit a rock and it was a$$ over elbows. I slightly sprained both ankles, bruised the dickens out of my shoulder, and took about five layers of hide off my right forearm…
…and then I got right back on.
This is what a life of failure has taught me. We try, we fail, we try again and do things differently, and sometimes even better. The faster we learn to have a healthier relationship with failure, the faster we will meet with success. Frankly, if we aren't failing, then we aren't doing anything interesting. So if failure is part of the successful person's life, why not learn to fail with style?
Many of us spend years trying to avoid failing. I sure know I did. Many of us are so terrified that we will look foolish or stupid that we can be paralyzed. We allow fear to steal the best experiences and the best memories. How? If we fear failure, we never try. We fail by default.
Failure isn't to be feared at all. In fact, failure is awesome. Failure makes us better. It makes us smarter. Failure will teach us more than success ever will.
For instance, I now know that if I ever get back on a dirt bike, hills are not my thing. I've learned to slow down, to not let my ego take over driving, because Kristen's ego looks a lot like Mayhem.
Allstate Insurance provided actual photo of Kristen Lamb's ego.
Yes, I admit there are times I would like to go back in time and right the wrongs, use some Space-Time-White-Out to make my life perfect. Yet, when I think about it a little harder, when I can press past the need to wince when I look at my short-comings, I see my failures a little differently. My failures make me more interesting. My funniest memories and most poignant lessons were all birthed by my failures. My failures shortened my learning curve. Failing made me humble. Failures made me teachable. Failures make me relatable.
Failure gets easier the more we fail. Sort of like those boxers who have someone throw a 12 pound medicine ball at their abdominals to toughen them to take a punch. What if, instead, they babied their bodies? They never hit their abs or bruised them. They would be toast. The best way to get good at failing is to try a lot of stuff and fail…and then fail some more.
Back to my dirt biking fiasco experience. I know years ago, my ego would have been far too bruised to fish my dirt bike off the side of the hill and try again. I would have felt sorry for myself, mortified and embarrassed. I would have nursed my stinging wounds and babied my tender ankles in the safe warm house…and I would have missed out on a lot of fun.
See, the other cool lesson about failing, and failing a lot, it we get better discernment. We are able to tell the difference between a mortal wound and something that stings like hell, but we can walk it off and be fine if we just get back on that horse (metaphorical dirt bike) and ride. We learn to pay better attention and not let the Confidence Curve surpass the Skill Curve. And, if we do?
Walk it off.
We also get better at discerning what activities are worth our time and talent. Dirt biking? Yeah….tried it, but don't really see it in my future. I got back on, rode around for another hour and then was able to part ways with no unfinished business….no "what ifs?".
Life is much the same way. My opinion? We should love as if we will never be hurt, give as if we can never lose, and try as if we can only win. Many of you following this blog are writers. Keep writing. Sure, the first novel might be awful, but keep moving. Let it go. You wiped out. Walk it off. I failed at #nanowrimo. After a month, I only had 33,000 words. What did I learn? That I have room to grow. I have 33,000 more words than when I started. Failing is part of living, so get back on and write again and again and THAT is how best-selling novels are made. And, if failure is part of being a successful author, then why not #EpicFail with style ;)?
So what are your #EpicFails? What has failure taught you? Are you still afraid of failing? Why? Share! I love hearing from you!
And to prove it and show my love, for the month of December, everyone who leaves a comment I will put your name in a hat. If you comment and link back to my blog on your blog, you get your name in the hat twice. If you leave a comment, and link back to my blog, and mention my book We Are Not Alone in your blog…you get your name in the hat THREE times. What do you win? The unvarnished truth from yours truly.
I will pick a winner every week for a critique of your first five pages. At the end of December I will pick a winner for the grand prize. A free critique from me on the first 15 pages of your novel. Good luck!
I also hope you pick up copies of my best-selling books We Are Not Alone–The Writer's Guide to Social Media and Are You There, Blog? It's Me, Writer . Both books are ON SALE for $4.99!!!! And both are recommended by the hottest agents and biggest authors in th biz. My methods teach you how to make building your author platform FUN. Build a platform and still have time left to write great books!